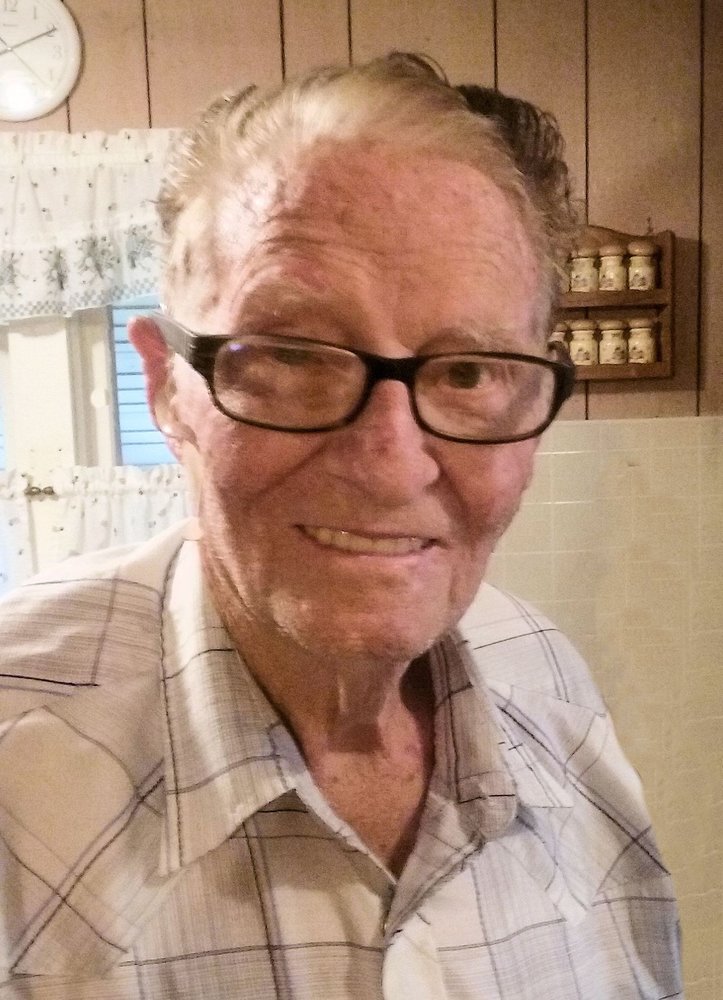 In Memory of
William Ivan Cates
1924 - 2017
Obituary of William Cates
William Ivan Cates, 93, of Doniphan, Missouri, departed this life on Sunday, August 20, 2017, at the residence of his son in Swansea, IL.
Ivan was the son of Grover Cleveland Cates and Sarah Effie (Adams) Cates, and was born May 12, 1924, in Ripley County (Burr), Missouri. He had been a railroad engineer for the B & O, C & O and CSX railroads for 33 years prior to his retirement in 1985. Ivan had been a member of the First Baptist Church in Doniphan and drove the church bus for several years.
On February 10, 1945, he married Dessie Irene Palmer in Pocahontas, Arkansas. Dessie was the true love of Ivan's life. Together, Ivan played his harmonica, while Dessie sang with the Gospel Volunteer Group at various nursing homes in Doniphan. Unfortunately, she was taken too soon, and preceded him in death on February 9, 2009.
Ivan had a generous heart and was beloved by all who knew him. He will be forever remembered for his great love for family and friends, as well as his passion for the outdoors. In addition to playing tunes on his harmonica, Ivan enjoyed his time fishing, hunting, tending to his farm, playing cards with family and friends, and working puzzles. He always had a bountiful garden and fretted over his livestock. Ivan's intense love of life itself, in all its forms, will be so dearly missed.
Ivan was also preceded in death by his parents; his two brothers, Art Cates and Avon Cates; his three sisters, Ila Celeste Bennett, Nila Beal, and Thelma Lasater; and his son-in-law, Dexter Brooks.
Surviving are his son, Darrell (Judy) Cates of Swansea, IL; his daughter, Linda Faye Brooks of Montgomery, Alabama; his sister, Ada Effie Brown of Doniphan; his brother, Iver Cates of Alton, Missouri; grandchildren, Dale (Heather) Miller of Belleville, Illinois, Mark Miller of Montgomery, Alabama; David (Jennifer) Cates and Lauren Cates, both of Swansea, Illinois, and Robert Cates of Fort Myers, Florida; and great grand-children, Nick Miller, Jacob Miller, Alexander Miller and Christopher Miller, all of Belleville, Illinois; and Aubrey and Wyatt Cates of Swansea, Illinois; and step great-granddaughter, Brianna Bruney of Eclectic, Alabama.
Visitation for Ivan will be held Friday evening, August 25, 2017, from 5 - 8 p.m. at the Edwards Funeral Home in Doniphan. The funeral service will follow on Saturday morning, August 26, 2017, at 11:00 a.m. at the Edwards Funeral Home Chapel, with Brother Monty Flanagan, Pastor of the First Baptist Church, officiating. Burial will take place Monday morning, August 28, 2017, at 10:00 a.m. at the Lake View Cemetery in Fairview Heights, Illinois. In lieu of flowers, the family requests that donations be made to the angels of Family Hospice, 5110 West Main Street, Belleville, Illinois 62226.
Share Your Memory of
William
About Us:
Our service does not end with the ceremony, we continue to help you and your family with the many details that will arise. It is our desire to help relieve as much stress as possible during the funeral process.
Our Location:
Edwards Funeral Home, Inc.
606 Walnut
Doniphan, Missouri 63935
Phone: 573-996-2121
Fax: 573-996-2225
Email: edwardsfuneralhome@yahoo.com