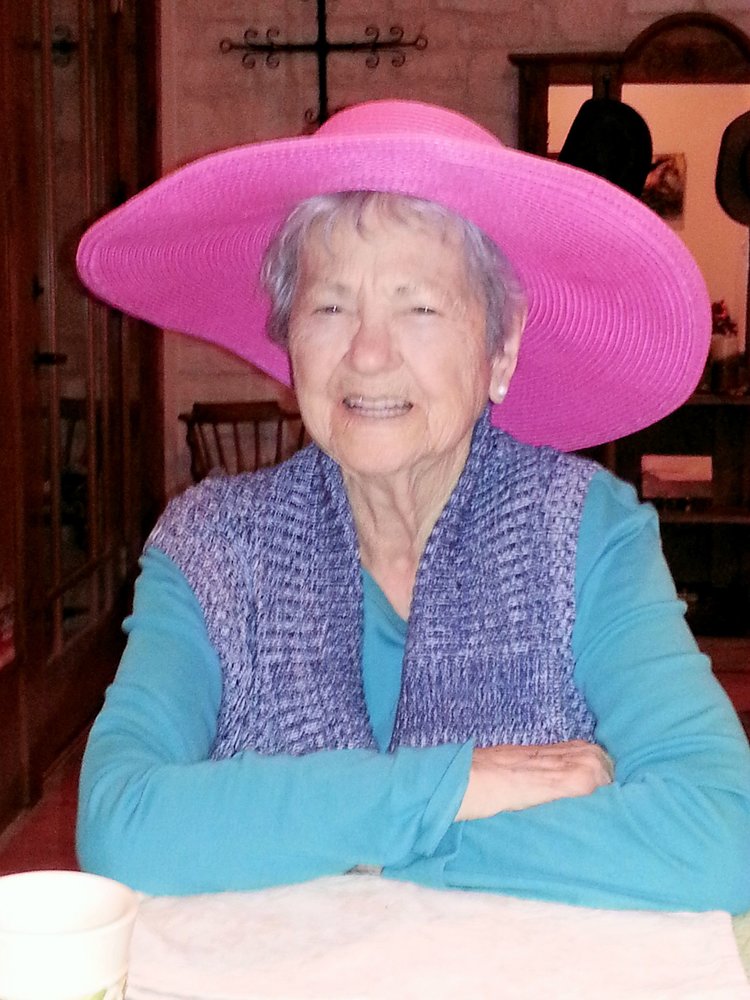 In Memory of
Georgia Rose Ruble
1920 - 2018
Obituary of Georgia Rose Ruble
Early on November 2, 2018, Georgia Rose Ruble passed through Heaven's pearly gates. Almost 99 years ago, on January 24, 1920, she was born into the Hawkins family, a farming family in Ripley County Missouri. She grew up in a Christian family with fifteen brothers and sisters. As a young woman, she ventured out on her own and moved to St. Louis to work as a beautiful waitress in a small café. Soon she noticed a handsome red headed man who became a constant patron and soon after her husband for life. Georgia and Eual married on March 3, 1940. In 1941, Georgia gave birth to her daughter Patricia Ann.
During WWII, Georgia was left to raise Pat on her own. Like many women, she became a Rosie the Riveter, working in an ammunition factory. She and her sister Lee worked in the factory while their sister-in-law Bessie watched the toddlers. They made life work by using the power of women's fellowship to succeed.
After the war, Georgia and Eual had their second child, Steven Monroe and seven years later, their third child, Kimberly Kay. During these years Georgia was the quintessential wife, mother, and hostess. Her children slept on pressed sheets and ate four-course meals. Georgia, Eual and friends regularly fished, golfed and played cards together.
Knowing her last child would soon be in college, Georgia started working at Famous Barr. The family remained steady. At age 52, Georgia lost her husband to heart disease. Once again, she gathered a fellowship of her sisters and Christian friends. They played and faced challenges together. Her house was opened for people needing a temporary place to live. At age 84, Georgia retired from Famous Barr, sold her house and moved to Dripping Springs, Texas.
The family built a small cottage on Pat and Del's land. Georgia watched seven grandchildren (Scott, Chris, Kelly, Nicole, Daniel, Regina, Charlotte and Steven) and eleven great grandchildren (Steven, Hannah, Zachary, Christopher, Campbell, Cameron, Olivia, Sarah, Caroline, Matthew, Aleia) grow up. Unfortunately, she watched her son die of cancer, but her daily morning prayer in her prayer chair, along with the Wimberley Church of Christ fellowship, helped her find the peace of her Lord.
All her life she remained constant in the study of God's Word, prayer, and fellowship. May we follow in her footsteps.
A Memorial Service will be held Friday, November 9, 2018, at 6:00 p.m. at the Wimberley Church of Christ in Wimberley, Texas.
On Saturday, December 1, 2018, at 1:00 p.m. a visitation for Mrs. Ruble will be held at Edwards Funeral Home in Doniphan. A funeral service will follow at 2:00 p.m. in the funeral home chapel and burial will be in the New Hope Cemetery.
Share Your Memory of
Georgia
About Us:
Our service does not end with the ceremony, we continue to help you and your family with the many details that will arise. It is our desire to help relieve as much stress as possible during the funeral process.
Our Location:
Edwards Funeral Home, Inc.
606 Walnut
Doniphan, Missouri 63935
Phone: 573-996-2121
Fax: 573-996-2225
Email: edwardsfuneralhome@yahoo.com