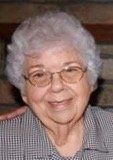 Obituary of Barbara Hoefer
Barbara Marilee Hoefer, 81, of Doniphan, Missouri, departed this life Saturday, July 29, 2017, at her residence in Doniphan.
Mrs. Hoefer, daughter of the late Elbert & Ethel (Severs) Miller, was born August 9, 1935, in Oxly, Missouri, and was a lifelong resident of Ripley County. She was retired as a caseworker with the Missouri Division of Family Services. Mrs. Hoefer enjoyed cooking, gardening, and spending time with her family and was an excellent seamstress. She was a member of the Doniphan Church of Christ.
On October 6, 1956, she was married to Delbert Hoefer in Doniphan. He preceded her in death on September 19, 2006.
Surviving are one daughter; Teresa Hoefer of Cape Girardeau; one son-in-law, Steve Braschler of Doniphan; one sister, Karen Parks of Corning, Arkansas; one brother, Cecil Miller of Alexis, Illinois; and one grandson; Derrick Braschler of Doniphan.
Mrs. Hoefer was preceded in death by her parents and one daughter, Brenda Braschler.
Visitation will be from 11AM to 1 PM, Tuesday August 1, 2017, at the Edwards Funeral Home in Doniphan. Funeral services will be held Tuesday, August 1, 2017 at 1 PM in the Edwards Funeral Home Chapel with Mr. Steve Sanders officiating. Burial will be in Doniphan City Cemetery in Doniphan.