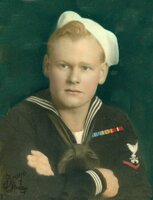 George Bert Allen
George Bert Allen, 97-year-old lifelong resident of Ripley County, departed this life Wednesday, December 14, 2022. He was born April 8, 1925, in Doniphan, MO to the late Edward and Mary Lee (Murray) Allen.
George had served in the United States Navy during World War II. He attended Oak Grove Church of God for many years. His strong Christian faith was evident in the poetry he loved to write and his views on politics. George also liked to fish.
On February 29, 1948, George married Essie Christene Boyles in Doniphan. She survives. Also surviving are his children, Kenneth Edward Allen of Bloomfield, MO, Charolette Ann Fitzgerald of Salem, MO, Lawrence Wayne Allen, Fred Harper Allen, and Boyd Lee Allen, all of Doniphan; and one sister, Grace Headley of St. Louis, MO. Thirteen grandchildren, 36 great-grandchildren, and eight great-great-grandchildren also survive.
George was preceded in death by one son, Everett Tracy Allen; sisters, Etta Rainbolt, Anna Adams, and Bertha Friar; and his brothers, William Harper Allen, Charlie Allen, Lawrence Allen, and James Allen.
Visitation will be held in the Edwards Funeral Home Chapel on Tuesday, December 20, 2022, beginning at 10:00 a.m. with the service to follow at noon. Burial will be in the Oak Grove Cemetery.