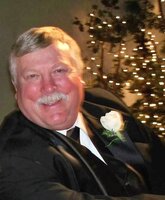 Stan Thompson
Stanley Allen Thompson, 66, of Doniphan, MO, departed this life Sunday, September 11, 2022. He was born November 18, 1955, in Doniphan, MO, to Charles Raymond and Billie Jean (Tabor) Thompson.
Stan was big-hearted and full of fun and laughter. He loved to be outdoors enjoying nature, fishing, hunting, and golfing with dear friends and buddies. Stan also was a sports enthusiast and enjoyed playing and watching sports. Stan was of the Baptist faith. He had served in the United States Air Force.
On January 30, 1993, Stan married Patricia Ann Holmes. She survives. Also surviving is a daughter, Misty Dawn (Michael) Ramsey of Springfield, MO, stepchildren, Brandon (Julie) Thompson of Lakeland, TN and Dana (Steven) Rhodes of Bartlett, TN; sisters, Donna Thompson of Oklahoma City, OK and Paula Thompson of Marshfield, MO; a brother, Ed Thompson of Fairdealing, MO; and nine grandchildren, Ethan, Noah, Nathaniel, Kaitlyn, Cannon, Kinley, Lincoln, Mac, and Jack.
Visitation will be Thursday, September 15, 2022, in the Edwards Funeral Home Chapel beginning at noon with the funeral service to follow at 2:30 p.m. Burial will be in Macedonia Cemetery with full military honors.