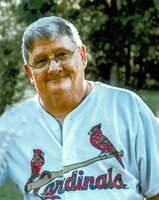 Jimmy Lynn Fleetwood
Jimmy Lynn Fleetwood, 75-year-old resident of Doniphan, MO, departed this life Monday, August 1, 2022. He was born February 20, 1947, in De Berry, TX to the late Marion F. and Opal H. F. (Simon) Fleetwood.
Jimmy retired from the Boeing Company. He enjoyed watching Cardinals baseball and Missouri Tigers football and basketball, telling jokes, floating Current River, singing and playing the guitar, taking care of his cat and genealogy research.
In addition to his parents, Jimmy was also preceded by his brother, Billy Fleetwood, and his sister, Jenny Starkey.
Surviving are his brothers, Paul "Bob" Fleetwood and Kenneth Fleetwood, both of Doniphan; and numerous nieces and nephews. Jimmy will be dearly missed by all who loved him.
Visitation will be Friday, August 5, 2022, in the Edwards Funeral Home Chapel beginning at noon with the funeral services to follow at 2:00 p.m. Brother Kent Harding will be officiating. Burial will be in Elizabeth Cemetery.