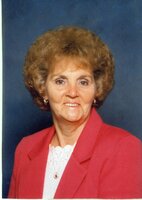 Ruby Inez Lane
Ruby Inez Lane, 89, of Doniphan, Missouri, departed this life Friday, July 22, 2022, at her residence.
Mrs. Lane, daughter of the late Cecilia Brown, was born June 21, 1933, in Marked Tree, Arkansas. She retired from J.C. Penny's, enjoyed gardening, reading, and was a member of the Church of God.
On February 4, 1947, she was married to William "Bill" Lane in Harrisburg, Arkansas. He preceded her in death on September 5, 2018.
Surviving are 3 sons; Lonnie Lee (Joanna) Lane and Richard Wayne (Dawn) Lane, both of Gatewood, Missouri, and Terry Lynn Lane of Duluth, Georgia; and several grand, great grand and great-great-grandchildren.
She was preceded in death by her mother; one son William Lane, Jr; and all her brothers.
Visitation will take place Monday afternoon, July 25, from noon- 1 p.m. in the Edwards Funeral Home in Doniphan. The funeral service will be Monday, July 25, at 1 p.m. in the funeral home chapel. Burial will be in the Oak Ridge Cemetery in Briar.