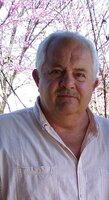 David Briscoe
David Briscoe, 60-year-old resident of Doniphan, MO, departed this life Tuesday, July 19, 2022. He was born November 1, 1961, in Poplar Bluff, MO to Marvin and Mayrene (Nicholson) Briscoe.
David attended Doniphan First Baptist Church. He enjoyed carpentry and fishing.
In 2001, David married Tena Whitworth in Poplar Bluff, MO. She survives. Also surviving are his children, Caleb Briscoe and Kayleigh Briscoe, both of Doniphan and Justin Briscoe of Poplar Bluff, MO; and his brothers, Gary Briscoe and Ray Briscoe, both of Poplar Bluff, MO, and Steven Briscoe of Fairdealing, MO.
David was preceded in death by his brothers, Donald, Dale, and James Briscoe.
Visitation will be Thursday, July 21, 2022, in the Edwards Funeral Home Chapel from 5:00 to 8:00 p.m. Funeral services will be Friday, July 22, 2022, at 10:00 a.m. at First Baptist Church with Pastor Monty Flanigan officiating. Burial will follow in Hunt-White Cemetery.