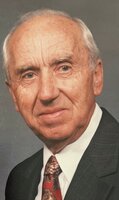 Gene M. Rice
Gene Milton Rice was born on August 5, 1925, in Crane, Missouri and left this life on June 6, 2022, at the age of 96. His parents were Dee and Ethel Rice, and he had one older brother, Nelson Rice. Gene lived in Crane until he was 8 years old. In 1933, the Rice's had acquired the Doniphan Telephone Company and moved to Doniphan, where Gene lived for the rest of his life. He was a member of the First Baptist Church. At the age of 12, he accepted Christ as his savior and was baptized, and also enjoyed singing in the church choir.
Gene attended Doniphan High School and graduated with the Class of 1943. He was very active in High School sports and received a Medal for being "Most Athletic". Immediately after graduation, he and his best friend Lewis Sewell drove to St. Louis and joined the U.S. Army Air Force, where Gene served as a navigator. After the war ended, he attended Westminster College for a year, and then moved to Kansas City where he worked for the Kansas City Municipal Utilities Co. Later, he enrolled in the University of Missouri in Rolla, Missouri and graduated with a degree in Electrical Engineering. He then returned to Doniphan to work with his father and brother in the Doniphan Telephone Company. In August of 1952 he met the love of his life, Dorothy A. Bartel. He proposed to her after attending a St. Louis Blues Hockey game, and they married on March 28th, 1953. He loved being outdoors. He was very passionate about golfing as he was a member of both the Westwood Hills and the Current River Country Club, making 15 holes-in-one in his career, and also competed in several Senior Golf Tournaments. He also enjoyed the Current River and loved spending time at his family's cabin at Worley's Rock.
He and his wife Dorothy were blessed with two wonderful children Patricia (Steve) Gowen, John (Rebecca) Rice, and a great-granddaughter, Cassidy (Shayne) Paisley-Elich, whom they raised as their own. He is survived by his wife Dorothy, both children Tricia, John, and Cassidy, his sister-in-law Jane and her husband Lynn Snow, nine grandchildren: Paris (Brian) Foster, Janet, Sara, and Megan McFall, Joshua (Caitlyn) Rice, J-Lynn (Ervin) Nance, Jacob (Leota) Rice, and Jeremy and Mindi Rice. They have 21 great-grandchildren together, and one great-great-grandchild. He was preceded in death by his parents Dee and Ethel Rice, and his brother Nelson Rice.
Private Funeral Services were held at Edwards Funeral Home on Friday, June 10th, 2022. Burial was at the Doniphan City Cemetery with Reverend Monty Flanigan officiating and giving the eulogy. He was buried with Full Military Honors, and Special Readings were given by Cassidy Paisley-Elich and Paris Foster. He was also eulogized by his son, John. Pallbearers were Jacob Rice, Joshua Rice, Daniel Maples, Zackary Paisley, Drew Foster, and Shayne Elich. Our thanks go to Dr. Li, Dr. Graver, and to all of the wonderful people who took care of him at The Manor.