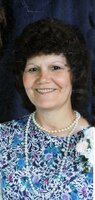 Jane Faye Siegler
Jane Faye Siegler, 78-year-old resident of Doniphan, MO, departed this life Tuesday, May 24, 2022. She was born May 24, 1944, in Holland, MO to the late Vernon and Shirley Burns.
Jane had worked in the healthcare field as a CNA and attended West Point United Pentecostal Church.
On October 26, 1966, Jane married Johnnie Siegler. He preceded her in death on August 15, 2009. She was also preceded by one son, Douglas Siegler, and all her siblings.
Surviving are her sons, Johnny (Kimmie) Siegler of St. Louis, MO and Terry (Dana) Siegler of Doniphan and six grandchildren.
Visitation will be Tuesday, May 31, 2022, in the Edwards Funeral Home Chapel beginning at 9:00 a.m. with funeral services to follow at 11:00 a.m. Brother Chuck Carr will be officiating, and burial will be in the Amity Cemetery.