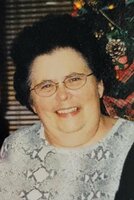 Janice K. Bowen
Janice K. McCurdy White Bowen, formerly of Galva, IL, peacefully passed away surrounded by her sons on Friday, February 25, 2022 in Doniphan, MO. She was 82-year-old, born June 3, 1939 in Galva, IL to the late Herman and Arlene (Kenney) McCurdy.
Janice owned and operated a TV shop in Alpha, IL for many years. She had also worked at the J. C. Penney store in Galesburg, IL. Janice was of the Baptist faith. She enjoyed quilting, crocheting, playing Dominoes, and spending time with family and friends. Anyone who knew her knew that Janice was always there willing to help in any way she could.
Those left to cherish her memories are her two sons, Douglas (Lora) White of Woodhull, IL and William (Bill) White of Doniphan; a sister, Barbara (Dennis) Roberts of Geneseo, IL; and a brother, Roger McCurdy of Galva, IL. She is also survived by four grandchildren and six great-grandchildren along with many nieces, nephews, and cousins.
In addition to her parents, Janice was preceded in death by a brother, Willard McCurdy.
A graveside service will be held in Galva, IL at the Galva Cemetery in Galva, IL on Saturday, April 9, 2022 at 11:00 a.m. with a Celebration of Life to follow at Galva First Baptist Church.
In lieu of flowers, memorials may be made to the family.