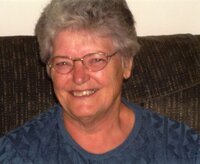 Patsy Joann Creach
Patsy Joann Creach, 78-year-old resident of Fairdealing, MO, departed this life Friday, February 25, 2022 at her home. She was born March 9, 1943 in Harviell, MO to the late Lonnie and Gladys Lorene (Shickles) Creach.
Patsy graduated from Poplar Bluff High School in 1962 and worked at Carter Carburetor in St. Louis until it closed in 1984. She moved back to Fairdealing and worked at Gates Rubber in Poplar Bluff and Vitronic in Doniphan until retirement.
Patsy enjoyed traveling, fishing, going to yard sales and attending auctions, bowling, and spending time with friends and family. Her beloved pets also had a special place in her heart.
Surviving are her sisters, Vicki (Paul) Grunz (Pam, Steve, Tom, and Elizabeth) of Defiance, MO and Londa Johannsen (Phillip, Lorenda, Aaron, and Andrew) of Fairdealing as well as aunts, uncles, cousins, and many, many nieces and nephews.
Pat was preceded in death by her parents, grandparents, aunts, and uncles as well as two beloved nieces.
Visitation will be held in the Edwards Funeral Home Chapel on Saturday, March 5, 2022 from 1:00 to 3:00 p.m.