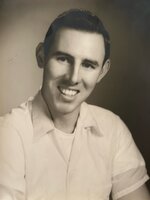 Joe Hollomon
Joseph Sidney Hollomon, 87-year-old resident of Doniphan, MO, departed this life Tuesday, February 1, 2022. He was born October 9, 1934 in Hayti, MO to the late Sid and Ruby (Garner) Hollomon.
Joe retired from the United States Forest Service, but his favorite work and pasttime was working on his farm. Joe loved animals, playing games, watching St. Louis Cardinal Baseball, and working puzzles. He also liked to fry and serve catfish, eating ice cream, and taking Ranger rides with his dog. Joe was a member of Briar Missionary Baptist and served as treasurer and was active in his Sunday School class. He served in the National Guard and United States Navy as a medic.
On June 22, 1969, Joe married Elaine Pickens in Deerfield, KS. She survives. Also surviving are his children, Virgil Hollomon, William (Carley) Hollomon, Christina (Brandon) Taylor, and Samuel Hollomon; his grandchildren, Aaron, Reid, Graham, Emmy, Aleena, Josie, and Grant; as well as several cousins.
Joe was preceded in death by his parents and by a son, Daniel Hollomon.
Visitation will be held in the Edwards Funeral Home Chapel on Monday, February 7, 2022 from 5:00-8:00 p.m. Funeral services will be Tuesday, February 8, 2022 at 1:00 p.m.
In lieu of flowers, memorials may be made in his name to Bennett Cemetery or your favorite organization.