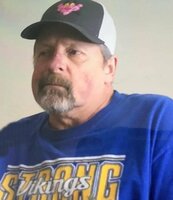 Cliff Ormsby
Clifford Wayne Ormsby, 59, of Florissant, MO, departed this life Sunday, January 23, 2022, in DePaul Hospital-St. Louis in Bridgeton, MO. He was born August 18, 1962 in St. Louis to Floyd and Francis (Moore) Ormsby.
Cliff enjoyed time spent with family, especially family BBQs. He liked to draw and had a natural talent for drawing. Cliff was also jokingly known as Beer Connoisseur.
Surviving is one sister, Sharon Heibel of St. Louis, and brothers, Chris Ormsby of St. Louis, Floyd Ormsby of Bonne Terre, MO, and James Ormsby of St. Louis.
Clifford was preceded in death by a brother, Danny Ormsby.
Graveside services will be held at 11:00 a.m. on Saturday, January 29, 2022 at Center Hill Cemetery.