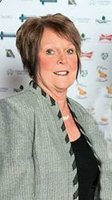 Bonnie Casteel
Bonnie Jean Casteel, 66 year old resident of Doniphan, MO departed this life Saturday, June 1, 2019 at the Flo and Phil Jones Hospice House in Jonesboro, AR. Bonnie was born November 28, 1952 in Doniphan to the late Jack and Irene Phillips Stilwell. She worked for Peoples Community Bank for 34 years, starting as a teller and ending her career as Vice President. She was a member of the Eastern Star, enjoyed traveling, and spending time with her grandchildren.
In addition to her parents, Bonnie was also preceded in death by brothers Donnie and Jackie Stilwell.
On December 15, 1973, at the Current View Church of Christ, she was married to Larry Casteel, who survives. Also surviving is 1 daughter Lindsey (Tyler) Crisler of Walnut Ridge, AR; 1 sister, Evelyn Ederer of Doniphan; 1 brother, Phillip Stilwell of Doniphan; and 3 grandchildren Callie, Bella, and Miyah.
Funeral services will be held Wednesday, June 5, 2019 at 1:00 PM in the Edwards Funeral Home Chapel with William Vassar officiating. Visiting will be held Tuesday, June 4, 2019 from 5-8 PM. Burial will be in the Towles Cemetery.
The family asks that any memorials be made to the Flo and Phil Jones Hospice House, 1148 E. Matthews, Jonesboro, AR 72401.