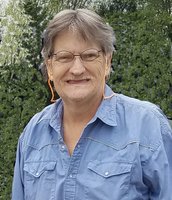 Johnny Lee Evans, Jr.
Johnny Lee Evans Jr., 54, of Doniphan, MO, was born October 14, 1964, in St. Louis, MO, to Johnny L. Sr. & JoAnn (Foeste) Evans. He died on January 8, 2019, at his residence in Ripley County, MO.
Mr. Evans attended the Good Hope General Baptist Church. He was an over-the-road truck driver, and worked on old trucks, enjoyed building model diesel trucks, loved his family and friends and his faithful dog Maddy.
On February 1, 2000, he married Jeanette Hodo-Evans in Corning, AR. She preceded him in death on February 6, 2006.
Surviving are two daughters, Tonya (Jason) Brown and Alicia Evans and one son, Johnny Lee (Heather) Evans III, all of Ellsinore, MO; one step-son, James Sanchez of St. Louis; two sisters, Janice Evans of IL and Julie (David) Emery of Hunter, MO; two brothers Joe (Heather) Evans of Doniphan and Jerry ( Roz) Evans of NJ; eleven grandchildren and several nieces and nephews.
Visitation will be held Friday, January 11, 2019, from noon-2 p.m. in the Edwards Funeral Home in Doniphan and a graveside service will be held on Friday, January 11, 2019, at 2:30 p.m. at Mt. Carmel Cemetery with Bro. Pete Joplin officiating. Burial will be in the Mt. Carmel Cemetery.