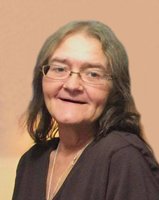 Judy Elizabeth Barnett
Judy Elizabeth Barnett, 57, of Doniphan, Missouri, died Tuesday, January 8, 2019, at her residence in rural Ripley County, Missouri.
Mrs. Barnett, daughter of the late Wayne and Barbara (Parker) VaNada, was born February 11, 1961, in Success, Arkansas. She was a housewife. Mrs. Barnett enjoyed reading, playing games and taking care of her family, especially her grandbabies. She was a charter member of the Old Ladies Birthday Club.
She was married to Jimmy Barnett in 1981 at Currentview, Missouri, and he survives.
Also surviving are 1 daughter, Victoria Barnett and 1 son, Jason Barnett, both of Doniphan; 2 sisters, Nancy (and Mike) Wilson of Sheridan, Arkansas, and Cindy (and Tim) Norman of Jonesboro, Arkansas; 1 brother, John (and Joy) VaNada of Harrisburg, Arkansas; and 4 grandchildren, Jaidyn Vandiver, Addisyn Vandiver, Serenity Barnett and Aidan Barnett.
Visitation will take place Wednesday evening, January 9, 2019, from 5 - 7 p.m. at the Edwards Funeral Home in Doniphan. A graveside service will be held Thursday morning, January 10, 2019, at 10:00 a.m. at the Hitt Cemetery in Success., Arkansas, with Brother Jerry Cooper officiating.