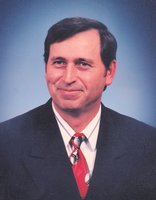 James Franklin Hanks
James Franklin Hanks, 64, of Doniphan, MO, was born April 13, 1954, in Leesville, LA, to Gorden Hanks and Juanita Upchurch Hanks McKenzie, who preceded him in death. He died on January 3, 2019, at his residence in Ripley County, MO.
On May 19, 1984, he was married to Doyce Brooks in Grandin, MO, and she survives.
Jim was a certified welder and rural mail carrier. He was an avid fisherman and especially loved trout fishing on the Eleven Point River with his companion, a black lab, Bo. In the fall of 2018, he realized a dream of fishing on Lake Ontario with his daughter, Victoria. Jim was an animal lover and enjoyed watching the birds eating at the feeders he provided all winter. He could identify each species of bird that visited. Even the fat squirrels that stole the bird seed from the feeders would bring him laughter and joy. Jim had a love for music, especially Beatles, Creedance Clearwater Revival, and blue grass music. He also played the mandolin and guitar. He was an all around generous man; always willing to help out his neighbors and friends. He attended West Point Church and was a veteran of the U.S. Army.
Mr. Hanks is also survived by daughters, Victoria (Daniel) Bozic of Oshawa, Ontario, Karen (Dan) Mast of Kearney, NE, Lisa Hanks of Valparaiso, NE, Jamie (Jesus) Arango of Lincoln, NE and Peggy Mitchell of Omaha, NE, and step-daughter, Daryl (Mike) Kelly of Doniphan, MO.
Also surviving are 13 grandchildren, Savannah, Josie, Charlotte, Jenna, Eloisa, Joaquin, Sebastian, Paige, Danica, Dakota, Tristan, Mic and Asher; 4 brothers, Gorden Hanks of Roseburg, OR, Michael Hanks of Riddle, OR, Edward McKenzie of Bonne Terre, MO, and Anthony McKenzie of Festus, MO; 5 sisters, Sandra Smith of Natchitoches, LA, Jeanie Lynch of Oxly, MO, Nancy Harris of Festus, MO, Rebecca McKenzie of Crocker, MO, and Ruth McKenzie of Festus, MO.
Visitation will be held Thursday evening, January 10, 2019, from 5-8 p.m. in the Edwards Funeral Home in Doniphan and a celebration of life service will be held on Friday, January 11, 2019, at 11:00 am. at West Point Church with Reverends Chuck Carr and Charles E. Carr officiating. Burial will be in the Macedonia Cemetery.