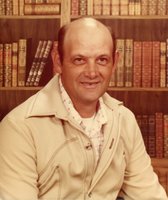 John E Odom
John E. Odom, 80, of Doniphan, Missouri, died Thursday, January 3, 2019, at his residence.
Mr. Odom, son of Ernest E. and Delia (Deshaw) Odom, was born April 20, 1938, in Ripley County, Missouri. He had been a sawmiller. John enjoyed hunting, fishing, camping and four-wheeling and was of the Baptist faith. Mr. Odom was a veteran of the U. S. Army.
On December 27, 1961, he was married to Janet Treiner in Ripley County, Missouri. She survives.
Also surviving are 3 children: John Anthony Odom, Jena Payne and Jennifer Odom, all of Doniphan; 8 grandchildren and 9 great-grandchildren.
He was preceded in death by his parents; 4 sisters, Lena Crook, Louise Armstrong, Lessie Odom and JoAnn Odom; and 1 brother, Charles Odom.
A graveside service will be held Monday, January 7, 2019, at 1:00 p.m. at the Belleview Cemetery in rural Doniphan with Pastor Ken Johnson officiating.