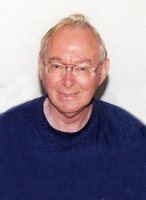 Johnny Bingham
Johnny Louis Bingham, 78, of Doniphan, Missouri, died Tuesday, November 20, 2018, at St. Francis Medical Center in Cape Girardeau, Missouri.
Mr. Bingham, son of Louis S. and Edith (Barks) Bingham, was born May 23, 1940, in Poplar Bluff, Missouri. He had been an accountant for the Internal Revenue Service. Mr. Bingham loved fast cars and he was a dedicated Three Rivers Raiders basketball fan and an avid St. Louis Cardinals baseball fan. Johnny was a member of the West Doniphan Missionary Baptist Church.
On June 10, 1966, he was married to Carrie June Colburn at the Ripley County Bethlehem Church and she survives.
Also surviving are two children: John Samuel Bingham of Colorado and Deidre Jane (Michael) Ruebel of St. Louis, Missouri; and 1 sister, Rosalea (Roger) Allgood of Cape Girardeau, Missouri.
He was preceded in death by his parents and one infant daughter, Johnna Carrie Bingham.
Visitation will begin at 1:00 p.m. Saturday, November 24, 2018, at the Edwards Funeral Home in Doniphan. A graveside service will follow at 3:00 p.m. at the Towles Cemetery in Doniphan with Brother Russell Chitwood presiding.