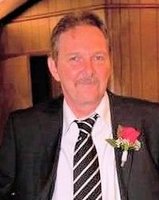 Stanley Ray Cook
Stanley Ray Cook, 61, of Doniphan, Missouri, died Tuesday, November 20, 2018, at his residence.
Mr. Cook, son of Herbert and Delores (Johnson) Cook, was born June 10, 1957, in St. Louis, Missouri. He had been a supervisor at Missouri Forge. Mr. Cook enjoyed doing yardwork and barbecue, playing horseshoes and music, piddling and he especially enjoyed spending special time with his children and grandchildren, whom he dearly loved. He attended the Ole Time Pentecost Church of Neelyville. Mr. Cook was an avid St. Louis Cardinals baseball fan.
On June 9, 1979, he was married to Lora Littrell in St. Louis, Missouri, and she survives.
Also surviving are 4 children: Daniel (Saydie) Cook, Brian Cook and Stephanie (Garrett) Thomas, all of Doniphan, and Melissa (Nick) Spencer of Jonesboro, Arkansas; 1 sister, Donna Spearman of Barnhart, Missouri; 3 brothers, David Cook of Fenton, Missouri, Gary Cook of St. Louis, Missouri, and Greg Cook of Imperial, Missouri; and 8 grandchildren, Jaylyn, Logan and Maverick Cook, Tyler, Hunter and Emmett Thomas and Kenzie and Blake Spencer.
He was preceded in death by his parents and 1 brother, Mark Cook.
Visitation will be held Friday evening, November 23, 2018, from 5 – 8 p.m. at the Edwards Funeral Home in Doniphan. The funeral service will follow at 11:00 a.m. Saturday morning, November 24, 2018, in the funeral home chapel with Reverend Glenda Haven officiating. Burial will be in the Kinsey Cemetery.