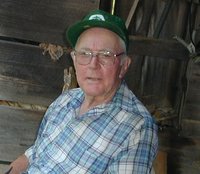 Acel Woodrow Price
Mr. Acel Woodrow Price, 99 years, 2 months & 18 days, of Doniphan, Missouri, died Monday, December 25, 2017, at his residence in Ripley County.
Mr. Price, son of the late Elvie & Myrtle (Eagan) Price, was born October 8, 1918, in Ripley County, Missouri. He had been a self employed farmer. Mr. Price enjoyed hunting, fishing and woodworking. In 2015 he received a resolution from the Missouri State House of Representatives for contribution to preservation of traditional Ozark crafts. Acel made several hunting trips to the Western states with his brothers Gene and Berry—and with special friends to Colorado.
On March 5, 1939, he was married to Clarice Buren Kennon, and she preceded him in death.
Surviving are two sons James (Cynthia) Price of Naylor, Missouri, and David (Sharon) Price of Doniphan; two brothers Bob (Louise) of Union, MO, and Clifford "Skip" of Sikeston, MO; two sisters-in-law, Betty Price of Elkton, KY, and Mary Ann Kennon of Fernwood, ID; faithful caregivers, Sylvia Wilkerson, Cheri Quick, Debbie Bridgeforth & Melissa Gambling; and many nieces and nephews
He was preceded in death by his parents; four brothers, Gene, Marvin "Speed", Max, & Berry; and one sister, Wilma Tatum.
Visitation will be held Friday December 29, 2017, from 11am – 1 p.m. at the Edwards Funeral Home in Doniphan. The funeral service will take place at 1:00 p.m. Friday afternoon, December 29, 2017, at the Edwards Funeral Home with Brother Bob Featherson officiating. Burial will follow in the Shirley Cemetery. In lieu of flowers memorials may be made to the Shirley Cemetery, c/o Edie Dilbeck 13 Summerfield Dr. Doniphan, MO 63935