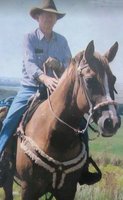 Don Elder
Don S. Elder, 84, of Van Buren, Missouri, died Monday, April 9, 2018, at the Riverways Manor Nursing Home in Van Buren.
Mr. Elder, son of Kelly and Juanita (Klotz) Elder, was born October 12, 1933, in Saffordville, Kansas. He had worked as a pipe-fitter and in the paint department at Chrysler. Mr. Elder raised registered quarter horses at Dogwood Acres near Grandin, Missouri, and loved riding horses, especially "Old Joe". He also enjoyed team roping, bluegrass music and he particularly liked being with his children. Mr. Elder was a veteran of the U. S. Army, serving as a paratrooper in the Korean War.
On July 7, 1954, he was married to Joy McConnaughhay in Meridian, Mississippi, and she preceded him in death on August 16, 1999.
Mr. Elder was also preceded in death by his parents; 3 children, Linda Hubbard, Peggy Winter and Donna Elder; 4 brothers, Bob, Danny, Vernon and Lyndal Elder; 1 grandson, Jackie Wayne Honea; and 1 great-granddaughter, Lindsey Winter.
Surviving are 4 children, Charolette Bourbon of Poplar Bluff, Missouri, Donny Elder and Janie Elder, both of Grandin, Missouri, and Kelly Saffle of Ellsinore, Missouri;1 sister, Vivian Cook of Festus, Missouri; and many grand, great-grand and great-great-grandchildren.
Visitation will begin at 11:00 a.m. Thursday morning, April 12, 2018, at 11:00 a.m. at the Edwards Funeral Home in Doniphan. The funeral service will follow at 1:00 p.m. in the Edwards Funeral Home chapel with Brother Robert Winter officiating. Burial with full military honors will follow at the Good Hope Cemetery near Grandin.