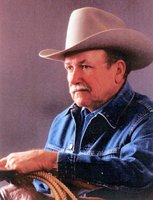 Jack Spencer
Henry L. "Jack" Spencer, 92, of Doniphan, Missouri, passed away Saturday, April 7, 2018, at the Poplar Bluff Regional Medical Center in Poplar Bluff, Missouri.
Mr. Spencer, son of Will and Katie (Pyle) Spencer, was born December 8, 1925, in Maynard, Arkansas. He was a veteran of the U. S. Navy and honorably served his country during World War II aboard a cargo ship as a navy gun crewman. During his tour of duty he traveled in the South Pacific, Australia, Saipan, Iwo Jima and South Africa. Jack loved his country and proudly served and respected our flag throughout his life. After discharge from the Navy, he returned to St. Louis, Missouri.
He soon came back to his roots in northeast Arkansas and southeast Missouri. Jack worked for the Mobil Oil Company for 16 years and then pursued his life-long passion of owning a farm. He purchased several acres on Little Black River which later became known as "Mud Puppy". His love of the land and the addition of cattle made his life's goal complete. Jack also enjoyed deer hunting (if he didn't have to clean his kill) and fishing, always trying to land a trophy bass. He was also a jokester sharing laughs and making memories over the years with his many friends. Jack loved the St. Louis Cardinals and was an excellent manager, calling play-by-plays in the comfort of his la-z-boy.
On December 25, 1943, he was married to Eileen Fowler in St. Louis and she preceded him in death on February 6, 1968.
He was also preceded in death by his parents; 3 sisters, Grace, Vida and Mada; 2 brothers, Charles and Harmon; and 1 grand-daughter, Jackie Stoutt.
Surviving are son, Ron (and Sandra) Spencer of Carl Junction, Missouri; daughters, Pat Aldridge of Poplar Bluff and Renee (and Allen) Holmes of London, Arkansas; 6 grandchildren; several great-grandchildren and great-great-grandchildren; many nieces and nephews; and special friends, Estel Goodwin, Randy Brooks and Gary Vaughn.
Visitation will be held Tuesday evening, April 10, 2018, from 5 - 8 p.m. at the Edwards Funeral Home in Doniphan. The funeral service will take place Wednesday afternoon, April 11, 2018, at 1:00 p.m. in the Edwards Funeral Home chapel with Brother Bob Featherston officiating. Burial with full military honors will follow in the Pitman Cemetery in Pitman, Arkansas.