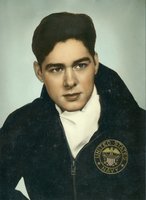 Ronald Wayne "Ron" Wilson
Ronald Wayne (Ron) Wilson, 71 year old resident of Doniphan, MO departed this life Thursday, April 5, 2018 at the Barnes-Jewish Hospital in St. Louis, MO. Mr. Wilson was born December 11, 1946 in Doniphan, MO. He was a veteran of the US Navy having served on the USS Essex. He also was a lab technician and had worked in construction. Ron enjoyed gardening and 4-wheeling.
He was preceded in death by his father Granville Wilson.
Surviving is his mother, Bertha Mae Wilson of Doniphan; 3 children, Shannon Wilson of Atlanta, GA; Eric Wilson of Doniphan, MO; Amanda Wilson of Corning, AR; 3 sisters, Delores Garrett and her husband Gary of Warrenton, MO; Juanita Johnson and her husband Jim of Doniphan; Sandy Mathis and her husband Larry, Jr. of Caseyville, IL; 2 brothers, Dwaine Wilson and his wife Sherry of Fairdealing, MO; Randy Wilson and his wife Susan of Naylor, MO; and 3 grandchildren.
Funeral services for Mr. Wilson will be held at 1:00 PM Monday, April 9, 2018, with Rev. Jim Johnson officiating. Visitation will begin at 11:30 AM on Monday with burial in the Amity Cemetery.