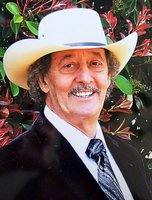 Albert "Al" H. Hendricks
.Albert H. "Al" Hendricks, 80, of New Madrid, Missouri, died Monday, April 2, 2018, at his residence.
Mr. Hendricks, son of Robert and Nettie (Gurnow) Hendricks, Sr., was born June 16, 1937, in New Madrid. He had been a mechanical engineer. Mr. Hendricks attended the Riverbend Pentecostal Church of New Madrid and enjoyed photography and traveling.
He was a former member of the New Madrid Jaycees and the Single Action Shooting Society and liked shooting guns made from 1886 and previous.
On October 15, 2005, he was married to Pam Lyons in New Madrid who survives. Also surviving is his former wife, Joy Schaffer of Sikeston, Missouri.
Others surviving include 3 daughters, Dana Hendricks Fisher and Amanda (and Phinezey) Johnson, both of New Madrid and Carole (and Carl) McGoldrick of Bastrop, Texas; 2 sons, Mark (and Debbie) Hendricks of Kewanee, Missouri, and Austin (and Chelsea) Lyons of Sikeston, Missouri; and 6 grandchildren and 5 great-grandchildren.
Mr. Hendricks was preceded in death by his parents; 3 sisters, Estelle, Katherine and Lou; and 2 brothers, Robert and Jack.
Visitation will be held Thursday evening, April 5, 2018, beginning at 5:00 p.m. at the Riverbend Pentecostal Church in New Madrid. The funeral service will follow Friday, April 6, 2018, at 11:00 a.m. in the church sanctuary with Brother G. L. Keene officiating.