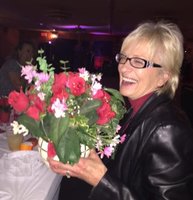 Katherine Marie "Kathy" Whiteside
Katherine Marie Whiteside, 65, of Doniphan, MO, passed away Wednesday, March 28, 2018 at her home in Doniphan, MO. Kathy was born March 13, 1953 to Max and Ruby Hatfield.
She married the love of her life, Randy Whiteside, on October 13, 1972; he survives.
Also surviving are her mother Ruby, Sister, Sarah(Bill) Hillix; Brother, Tom Hatfield; Son, Keith(Kristen) Whiteside; Daughter, Donna(Mike) Owen; Six grandchildren, Orie, Max, Sarah Marie, Randall, Willa, and Eva.
Preceding her in death was one sister, Donna Hatfield, and her Father, Max Hatfield.
Kathy had many loves during her life: God was first; her husband, children, and grandchildren; cooking- she was a great cook; she was an avid Cardinal Baseball fan, just like her daddy; fishing on the Current River; gardening and growing flowers; feeding and watching her birds; traveling to the beach; and Kathy had the biggest heart, and was a mom to many people.
Funeral services will be held Tuesday, April 3, 2018 at 2:00 PM in the Edwards Funeral Home Chapel in Doniphan, MO with Bro. Sloan Parker and Bro. Larry Earl officiating. Burial will follow in the Hunt-White Memorial Gardens Cemetery in Doniphan. Visitation will be Monday evening, April 2, 2018 in the Edwards Funeral Home Chapel from 5-8 PM.
Memorials may be made to the:https://moauctioneers.org/scholarship/