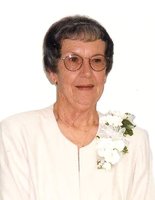 Betty Faye Keel
Betty Faye Keel, 83, of Ponder, Missouri, died Monday, March 12, 2018, at Southeast Health Center of Ripley County.
Mrs. Keel, daughter of Clarence and Nova (Robinson) Fagan, was born August 12, 1934, in Calm, Missouri. She had retired from Vitronic Manufacturing in Doniphan and then proceeded to do what she loved best – spending time with her children and grandchildren. Mrs. Keel was a member of the Red Hatters and Eastern Star and enjoyed gardening, tending her flowers and family gatherings.
On April 11, 1953, she was married to Melvin Lewis Keel in Doniphan, Missouri, and he preceded her in death on November 18, 2013.
She was also preceded in death by her parents; 2 sisters, Christine Holt and Justine Cotton; and 1 brother Lawrence Fagan.
Surviving are 2 children, Tresa Keel Swindle of Springfield, Missouri, and Keith (and Misty) Keel of Ponder; 1 sister, Ellen Holt of Pocahontas, Arkansas; 3 granddaughters, Kacie (and Brant) Gunther and Kellie (and Dustin) Campbell, both of Springfield and Krissy (and Tony) Jackson of Lebanon, Missouri; 3 great-grandchildren, Dade Thompson, Woody Gunther and Atley Jackson; 2 sisters-in-law, Sue Fagan of Naples, Florida, and Helen Keel (and Jim) Knoche of Blue Springs, Missouri; a special cousin, Mary Lou Boyd of Doniphan, Missouri; and several nieces and nephews.
Visitation for Mrs. Keel will begin at 1:00 p.m. Saturday, March 17, 2018, at the Edwards Funeral Home in Doniphan. The funeral service will follow at 2:00 p.m. in the funeral home chapel with Dennis Holt officiating.
A private burial will be held at a later date.
Memorials may be made to Cardinal-Glennon Children's Hospital in St. Louis.