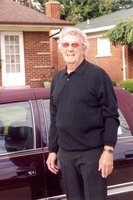 Ray Fairris
Luther Ray Dell Fairris, 73, of Doniphan, Missouri, died Wednesday, March 7, 2018, at St. Louis University Hospital in St. Louis, Missouri.
Mr. Fairris, son of Luther Sidney and Katie Novel (Myers) Fairris, was born April 28, 1944, in Paris, Tennessee. He had been a tool and die maker. Mr. Fairris enjoyed hunting, fishing, bushhogging, four-wheeling and tinkering in the barn. He had been a member of the United Methodist Church in Doniphan and was a tissue donor.
Ray was married to Gay Linda Smith in 1963 and they divorced in 1984. On July 29, 1988, he was married to Virginia "Ginger" Marie (Marshall) Neblett and she survives.
Also surviving are 2 children: Rhonda Kay Fairris of Detroit, Michigan, and Kevin Ray Fairris of Cleveland, Tennessee; 4 granddaughters, Brittany Wiltze, Jillian DoLunt, Brook DoLunt and Amber Dolunt; 1 son-law-law, Rick DoLunt; great-grandchildren, Vada Martin and Gavin Martin; 1 nephew, Jimmie Fairris, and 1 niece, Anorea Flowers.
He was preceded in death by his parents and 1 brother, James Howard Fairris.
Visitation will take place Monday evening, March 12, 2018, from 5 – 7 p.m. at the Edwards Funeral Home in Doniphan. The funeral service will follow at 7:00 p.m. in the funeral home chapel with Brother Kent Wilfong officiating. A graveside service will be Tuesday afternoon at Sugar Creek Chapel Cemetery in Big Sandy, Tennessee.