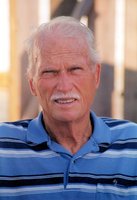 Billie Lee Burton, Sr.
Billie Lee Burton, Sr., 85, of Doniphan, Missouri, died Wednesday, February 28, 2018, at the Current River Nursing Center in Doniphan.
Mr. Burton, son of James Albert "Big Boy" and Nora Ivy Burton, was born July 14, 1932, in Bernie, Missouri. He was lovingly raised by his step-mother, Laura Mae (Clifton) Burton after the death of his mother at an early age. Mr. Burton had been owner/operator of Burton's Auto Sales and Salvage in rural Ripley County. He enjoyed fishing, camping, working with cars and he especially liked spending time with his family. He was a member of the Belleview Baptist Church.
On May 17, 1950, he was married to Carolyn Lou Holland at Bernie and she survives.
Also surviving are 3 daughters, Norma (and Tony) Jamerson of Benton, Missouri, Janice (and David) Messner of Doniphan and Tammie (and Donnie) Burton of Jonesboro, Arkansas; 1 son, Billie (and Crystal) Burton, Jr. of Doniphan; 5 grandchildren, Angel, Steve, Brandon, Sara, and Paige; and several step-grandchildren and great-grandchildren.
He was preceded in death by his father and mother, step-mother; 2 sisters, Juanita Varnagatas (and Joe) and Almedia Stauffer (and Clyde); 1 infant brother, Ramon; 1 infant sister, Lovita; and 1 granddaughter, Melissa McGhee Harper.
Visitation will begin at 10:00 a.m. Sunday, March 4, 2018, at the Edwards Funeral Home in Doniphan. The funeral service will follow at noon, in the Edwards Funeral Home chapel with Brother Jerry Cooper officiating. The graveside service will take place at 2:30 in the afternoon at the Sycamore Hills Cemetery at Pyle City, Missouri.