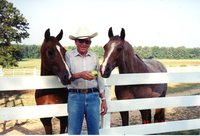 Lloyd Allen Ward
Lloyd Allen Ward, 96, of Fairdealing, Missouri, died Wednesday, February 21, 2018, at Poplar Bluff, Missouri.
Lloyd was born on December 17, 1921, in Fairdealing, Missouri. As the oldest son of Henry Lloyd and Iona Ward and with 5 brothers and 5 sisters, family always came first in Lloyd's life. Of his brothers and sisters, surviving are Faye Meyers of Fairdealing and Dale Ward of Philomath, Oregon.
On July 18, 1942, he was married to Wilma Huson in Naylor, Missouri, and she preceded him in death on May 7, 2010, after 68 years of marriage.
He is survived by his daughter, Jean Campbell and son-in-law, Bruce Campbell, of Golden, Colorado; and granddaughter, Ginny Campbell, of Denver, Colorado.
Lloyd was one of the greatest generation serving in the U. S. Army from 1942-1945. He had a successful career including Mississippi River Fuel, Armour Agricultural Chemical and retiring from U. S. Steel at the age of 62. He enjoyed gardening, horses, trail rides and reading westerns. Lloyd was a long-time member of the Doniphan Church of Christ, serving as an elder for many years.
Visitation will begin at 11:00 a.m. Tuesday morning, February 27, 2018, at the Edwards Funeral Home in Doniphan. The funeral service will follow at 12:00 p.m. in the funeral home chapel with Steve Sanders officiating. Burial will be in the Ward Cemetery in Fairdealing.