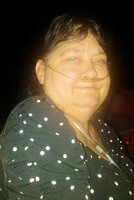 Becky Sue Moody
Becky Sue Moody, 59, of Fairdealing, Missouri, died Wednesday February 21, 2018, at her residence.
Ms. Moody, daughter of Harry and Marie (Beverlin) Windolf, was born October 21, 1958, in Iowa City, Iowa. She had been a housewife and enjoyed being a mother.
Surviving are 3 daughters: Jessica Moody, Tina Young and Anna Lopez, all of Quincy, Illinois; 1 son, Andrew Watts of Peoria, Illinois; 4 sisters, Sara Plunk of Doniphan, Missouri, Robbie Starman of Payson, Betty Downs of Fairdealing and Mary Ann Ratchford of Ellsinore, Missouri; and 10 grandchildren, Joel, Matais, Brasyn, Isabella, Josiah, Malachi, Jasmine, Emilie, Arianna and Eusebio.
She was preceded in death by her parents; and 1 brother, John Windolf.
Visitation will begin at noon Monday, February 26, 2018, at the Edwards Funeral Home in Doniphan. The funeral will follow at 2:00 p.m. in the funeral home chapel with Pastor Marshall officiating. Burial will be in the Plunk Cemetery.