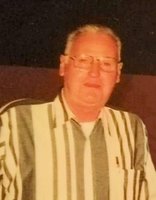 Bethel JR Redus
Bethel JR Redus, 72, of Arnold, Missouri, died Wednesday, February 21, 2018, at his residence.
Mr. Redus, son of the late Bethel and Loretta (Miller) Redus, Sr., was born June 6, 1945, in Gatewood, Missouri. He had been a boilermaker/consultant. Mr. Redus enjoyed working on cars and loved being with his family, especially his children and grandchildren. He took great joy in playing with his grandchildren and keeping them busy in various activities.
On April 10, 1965, he was married to Linda Louise Saulsbery in St. Genevieve, Missouri, and she survives.
Also surviving are 2 daughters: Helen Louise Redus and Cynthia Ann (Jeffrey) Lattray, both of Arnold; 1 son, Bethel Jay Redus of Pevely, Missouri; 1 sister, Erma Hudson of St. Louis, Missouri; 1 brother, Larry Redus of Maynard, Arkansas; 5 grandchildren, Jessica Redus, Kallon Lattray, Samantha Lattray, Isabelle Lord and Sophia Redus; and 2 great-grandchildren, Autumn and Jayden.
Funeral services will begin at 2:00 p.m. Saturday, February 24, 2018, at the Liberty Baptist Church at Calm, Missouri. Burial will follow in the Liberty Cemetery.
Memorials may be made to the Liberty Cemetery, c/o James McDowell, RR 9, Box 521, Gatewood, MO 63942.