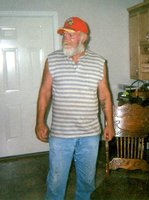 George Homer Ellis
George Homer Ellis, 74, of Campbell, Missouri, died Saturday, February 17, 2018, at General Baptist Nursing Home in Campbell.
Mr. Ellis, son of Homer George and Katherine D. (Farris) Ellis, was born May 28, 1943, in Doniphan, Missouri. He had been a pipe fitter in the boilermaking business. George was a veteran of the U. S. Air Force.
Surviving are 4 sons: George Elmer (and Katherine) Ellis, Jr., of North Carolina, Homer Ellis and Johnny Ellis, both of Oklahoma, and Brian Ellis of California; 5 daughters: Meeka Thomas, Cindy Rodenburg and Lona Lee, all of South Carolina, Katherine Albin of California and Lynn Eldridge of Oklahoma; 4 sisters, Juanita (and Leonard) Fitzgerald, Mildred Farrow, Brenda (and Dale) Pruitt, and Vivian Ellis Nelson (and Mike); 3 brothers, Floyd (and Joyce) Ellis, Virgil (and Linda) Ellis and Ron (and Nikki) Ellis; 24 nieces and nephews; many great-nieces and great-nephews; and a host of other family members, friends and cousins.
He was preceded in death by his parents; 3 brothers, Dave Henry Ellis, Clair Edward Ellis and Charles Albert Ellis; 1 sister, Hazel Thomas; 2 half-brothers, Vincent Edward "Buzz" Ellis and Richard Ellis; and 1 half-sister, Helen McGuire.
Visitation will begin at noon Tuesday, February 20, 2018, at the Edwards Funeral Home in Doniphan. The funeral service will follow at 2:00 p.m. in the funeral home chapel and burial will be in the Sanky Hall Cemetery in Poynor, Missouri.