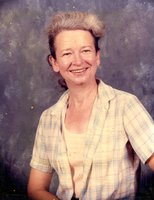 Mary Alice "Midge" Foster
Mary Alice "Midge" Foster, 74-year-old resident of Doniphan, MO departed this life Monday, February 12, 2018 at the Poplar Bluff Regional Medical Center in Poplar Bluff. Midge was born November 16, 1943, in Doniphan, MO to the late Merle and Helen Hubbard Richmond. She had retired from General Motors.
In addition to her parents, she was preceded in death by sisters, Marge McGonigal, Barbara Napier, and Helen Emmons; and brother Charles Richmond.
On February 15, 1963, in Doniphan, MO she was married to Wesley Foster who survives. Also surviving are two sons Charles and Mike Foster both of Doniphan; grandchildren April, Wesley, and Thomas; and brother Merle Richmond of Doniphan.
Visiting for Midge Foster will be held Wednesday, February 14, 2018 in the Edwards Funeral Home Chapel from 12:00 PM-1:30 PM. Burial will be in the Foster Family Cemetery.