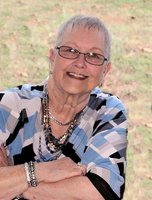 June Roberts
June Roberts, of Doniphan, age 75, passed from this life and into the next on Saturday, February 10, 2018 at Mercy Hospital in St. Louis. She was born on June 23, 1942 in Senath, Missouri to Jeff & Hazel Brooks. She married Larry Roberts on December 16, 1967. Together, they had two children, four grandchildren and one great-grandchild.
June worked for Southwestern Bell in St. Louis and upon retirement, she and her husband moved to Doniphan in 1995. June was a member of the First Church of God in Doniphan.
June enjoyed attending church, watching local basketball games and her grandchildren's sports, cooking (especially desserts), shopping and spending time with her grandchildren.
June is survived by her husband Larry Roberts; her son, Scott Roberts (Jill); her daughter, Vonda Roberts; four grandchildren, Samantha Lindsey (Derek), Logan Clark, Jonathan Roberts and Michael Roberts; and one great-grandchild, Braelynn Lindsey; siblings Donnie Brooks (Jewell), Mack Brooks (Jessie), Carol Morgan (Ronnie), Dean Miller, and Jane Brooks. She is preceded in death by her parents, Jeff and Hazel Brooks; sister, Wanda Green (Freeman) and brother, Vaughn Brooks (Wilma).
June's visitation will begin at 1:00 p.m. at the First Church of God, 506 E. Pine Street, Doniphan, on Tuesday, February 13, 2018. Her Memorial Service will follow at 3:00 p.m. in the church sanctuary with Brother Larry Earl officiating. In lieu of flowers, memorials may be made in June's name to the United Cancer Assist Network, 2620 N. Westwood Blvd, Poplar Bluff, MO 63901.