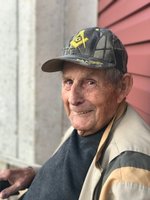 Allen Pigg
Verneal Allen Pigg, 88, lifelong resident of Doniphan, MO, died Friday, February 9, 2018, at his residence.
Mr. Pigg was born December 5, 1929 in Pine, MO to the late Willie Allen & Dorothy Irene (Whitwell) Pigg.
Allen was a former member of the Doniphan Lions Club, an avid St. Louis Cardinals fan, and he served with the Missouri National Guard for 27 years. He enjoyed beekeeping, hunting, fishing, listening to dogs run, gardening, and camping. Allen was a faithful member of the Democratic Party where he served Ripley County as Recorder and Circuit Clerk. He enjoyed working elections at Purman Precinct, was a very active member of the Masonic Composite Lodge #369 where he just received his 50 year member pin. He was instrumental in making their ham and bean day a success. Allen was a regular at Patsy's Journeyman Restaurant where he lovingly aggravated Angie and Patsy. He had overwhelming love for his granddaughter and great granddaughters. He also enjoyed time with his lifelong friend, Harold Headley.
Other survivors include one son Danny (Sylvia) Pigg of Doniphan; one sister Elsie Elizabeth Smith of Fulton, KY; two brothers Roy Elton (Rowena) Pigg and Franklin Dee (Earnsteen) Pigg both of Doniphan; one granddaughter Casey (Jonathan) Vallance of Doniphan; two greatgranddaughters Addyson and Brook; and several nieces and nephews.
He was preceded in death by his parents and one brother Sherman Wayne Pigg.
Visitation will be Monday, February 12th, 2018 from 10:00 AM till 12:00 PM at Edwards Funeral Home. Funeral services will be held Monday February 12, 2018 at 12:00 PM with burial in the Oak Grove Cemetery. A masonic service will be held at 11:30 AM.