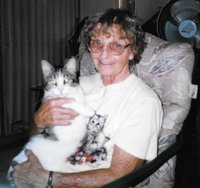 Barbara Jean Dremmel
Barbara Jean Dremmel, 79 year old resident of Corydon, Iowa, (formerly from Jasper, Texas), daughter of the late Dolph and Dorothy Goes, departed this life February 4, 2018 in Corydon, Iowa. Ms. Dremmel was born June 18th 1938 in Doniphan, Missouri.
She enjoyed fishing, working in her flower gardens and yard, and had a great love for all her cats.
Surviving are three children, Linda (Jesse) Rhodes of Plano, Iowa; Eddie (Nita) Lapar of Grandin, Missouri; and Manford Lapar of Texas; one brother, Jim (Sherry) Goes of Jadwin, Missouri; one sister, Sue (Willie) Harvey of Grandin, Missouri; and nine grandchildren along with several great grandchildren.
Barbara was preceded in death by her husband, parents, two brothers and three sisters.
Graveside services will be held Saturday, February 10, 2018 at 10:00 AM at the Stephens Cemetery with Bro. Pete Joplin officiating.