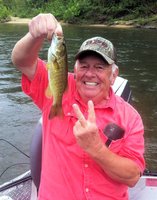 John Waymon Little
John Waymon Little, 72, lifelong resident of Doniphan, Missouri, died Saturday, January 27, 2018, at Southeast Hospital in Cape Girardeau, Missouri.
Mr. Little, son of Willie and Dorothy "McGee" Little, was born August 17, 1945, in Doniphan. He had retired from Vitronic Manufacturing. Waymon enjoyed fishing, traveling, old cars, old music and Cardinals baseball. Mr. Little was a former member of the Doniphan R-1 School Board serving from 1986-1993 and he loved his hometown.
On October 31, 1964, he was married to Barbara Thomas in Oxly, Missouri, and she survives.
Also surviving are 4 children: Sherry (Joel) Dorr, Kathy Little, John (Jamie) Little and Aimee (Mike) Conover, all of Poplar Bluff, Missouri; 2 sisters, Janice (Curtis) Tucker and Earnsteen (Franklin) Pigg, both of Doniphan; 13 grandchildren and 5 great-grandchildren; and his beloved yorkie, Danny Yo Yo.
He was preceded in death by his parents; 4 sisters, Juanita Pigg, Birdie Richmond, Imogene Little and Wilma Jean Little; and 2 brothers, Kenneth Little and Acel Glenn Little.
Visitation will take place Tuesday evening, January 30, 2018, from 6 – 8 p.m. at the Edwards Funeral Home in Doniphan. The funeral service will be held Wednesday morning, January 31, 2018, at 10:00 a.m. at the Edwards Funeral Home Chapel and burial will follow in the Hunt-White Cemetery.