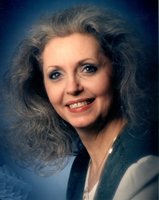 Jewell Dean Coleman
Jewell Dean Coleman, 70, of Doniphan, Missouri, died Sunday, January 21, 2018, at the Current River Nursing Center in Doniphan.
Ms. Coleman, daughter of the late Halsey F. and Ruby (Larue) Armes, was born March 19, 1947, in Butler County, Missouri. She had been employed at Missouri Division of Family Services. Jewell enjoyed gospel singing, attending church, watching old movies, cooking (especially desserts), shopping and being with her grandchildren.
Surviving are 1 daughter, Candice (and Tom) Marshall of Corning, Arkansas; 2 grandchildren, Nicholas Marshall and Falechia Marshall; and 3 great-grandchildren, James, Matthew and Chevy.
Visitation will be held Friday morning, January 26, 2018, from 10:00 a.m. until noon in the Edwards Funeral Home Chapel in Doniphan. A graveside service will follow at 2:00 p.m. at the Corning Cemetery in Corning, Arkansas.