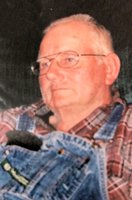 Walter "Bud" Harris
Walter James "Bud" Harris, longtime resident of Doniphan, Missouri, died Monday, January 15, 2018, at his residence in rural Ripley County.
Mr. Harris, son of Walter Sylvester and Iva Emiline (Cora) Harris, was born May 18, 1935, in Doniphan. He had worked in the timber industry. Mr. Harris enjoyed hunting, fishing, being in the woods and going to auctions.
He was married to Willa Mae Bessent and she survives.
Also surviving are 6 children: Linda (Jerry) Orick, Cheryl (David) Samples, Kelly James Harris, Stella Peery and Walter James (Journey) Harris, Jr., all of Doniphan and Iva Emiline Roesch of St. Louis, Missouri; 2 sisters, Florance Halley and Mary Bender, both of Colorado; 1 brother, Irvin Harris of Doniphan; and 19 grandchildren and several great-grandchildren.
He was preceded in death by his parents; 2 sons, David Wayne Harris and Billy Joe Harris; and 3 sisters, Stella Ruth Summers, Beauty May Labryer and Barbara Harris.
A graveside service will take place at 1:00 p.m., Friday afternoon, January 19, 2018, at the Belleview Cemetery in rural Ripley County with Brother Hubert Payne officiating.