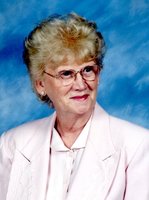 Nova Jane Brock
Nova Jane Brock, 89, of Doniphan, Missouri, died Monday, January 8, 2018, at her residence.
Mrs. Brock, daughter of Wesley and Willa (Story) Miller, was born August 5,1928, in Pine, Missouri. She had retired from National Lock in Rockford, Illinois. Nova enjoyed cooking and sewing and was a faithful member of the First Baptist Church in Doniphan and of the Eastern Star Chapter.
On March 1, 1951, she was married to Veral Eugene Brock in Rockford and he preceded her in death in 1981.
She was also preceded in death by her beloved son, Charles Henry Brock; her parents; 2 sisters, Verna Roberts and Sylvia Hall; and 7 brothers, Melvin, John, Bonnie, Calvin, Mac, James and Kenneth.
Surviving are 1 sister, Genelle (and Danny) Whitehouse of Pine; and many nieces and nephews
Visitation will be held Wednesday evening, January 10, 2018, from 5 - 8 p.m. at the Edwards Funeral Home in Doniphan. The funeral service will start at 10:00 a.m. Thursday morning, January 11, 2018, in the Edwards Funeral Home chapel with Brothers Monty Flanigan and her nephew, Danny Miller officiating. Burial will follow in the Pine Cemetery.