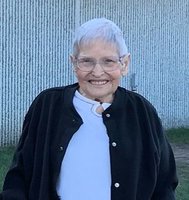 Dema Marie Scott
Dema Marie (Clayton) Scott, 88, of Doniphan, Missouri, died Tuesday, December 26, 2017, at Poplar Bluff Regional Medical Center. Mrs. Scott, the daughter of the late Charles Everton Clayton and Elsie Henson Clayton Lively and her late step-father John Lively, was born September 19, 1929, in Kewanee, Mo. Mrs. Scott picked cotton in her youth, worked in factories and photography prior to having children. After which, she devoted her time to being wife and mother. She was of Baptist faith and enjoyed spending time with her family, bowling, gardening and reading. Mrs. Scott was a member of the Eastern Stars Griffith Indiana Chapter #583.
On February 19, 1949, she married Presley James (PJ) Scott in Piggott, Arkansas, who preceded her in death. They were married 62 years and have two daughters who survive her. Deborah Lathum and husband Teddy of Doniphan, Missouri and Jacalyn Loudermilk and husband David of Crown Point, Indiana.
Mrs. Scott was preceded in death by her brother James Audy Lively.
Mrs. Scott is survived by one brother, Jesse Clayton (Dorothy) of Potosi Lake, MO. Mrs. Scott is survived by 4 grand-children Dwan Lathum of Poplar Bluff, MO, TJay Lathum (Jamie) of Poplar Bluff, MO, Timothy Loudermilk of Crown Point, IN and Kristyn Loudermilk of Crown Point, IN; four great grand-children Skye Lynne Rush, Aubrea Lovie Morrow and Kinslea Jayde Lathum of Poplar Bluff, MO, and Greyson Allen Loudermilk of Crown Point, IN. She is also survived by many nieces and nephews, family members and friends.
Visitation will be at the Edwards Funeral Home in Doniphan, Missouri on Friday, December 29, 2017, from 5:00-8:00 pm. Services will be on Saturday, December 30, 2017, at 1:00 pm in the funeral home chapel. Burial will be at Doniphan City Cemetery.
In lieu of flowers donations can be given to Mrs. Scott's niece, Caryn Duszka, and a donation will be made to the Griffith, IN chapter of the Eastern Stars.
Online condolences may be made to the family at www.edwardsfuneralhome.org.