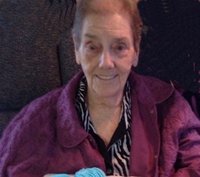 Ora Flo Nance
Ora Flo Nance, 89 year old former resident of Grandin, MO departed this life Tuesday, December 26, 2017 at the Mark Twain Caring Center in Poplar Bluff, MO. Mrs. Nance was born August 24, 1928, in Grandin, MO to the late Tom and Ora Cooper Roam. Ora retired from Paramount Caps and enjoyed fishing, picking wild green onions, taking rides with her daughter and eating chocolates, going to the river, and camping.
On April 26, 1947, in Clay County, AR she was married to Manuel Nance, who preceded her in death March 18, 2013. In addition to her parents and husband, she was preceded in death by one son, Gary Manuel Nance, sisters, Lillian Joplin, Goldie Swigert, Bonnie Swigert, Kathryn Gambling, Dephie Harvey, Lottie Reeves, and brothers Reagan and Murphy Roam.
Surviving are one daughter, Margaret Kearbey of Ellsinore, MO, one son Larry (Phyllis) Nance of Granite City, IL; one sister Cloine Goes of Madison, IL; 14 grandchildren, 26 great-grandchildren, and 5 great-great-grandchildren.
Funeral services for Mrs. Ora Nance will be held at 10:00 AM on Saturday, December 30, 2017 at the Edwards Funeral Home Chapel with Bro. William McDowell officiating. Burial will follow in the Grandin Cemetery and visitation will begin at 9:00 AM on Saturday.