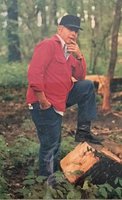 Albert S. "Ab" McKnight
Albert S. "Ab" McKnight, 84, of Doniphan, Missouri, died Thursday, November 9, 2017, at his residence in rural Doniphan.
Mr. McKnight, son of Ted and Ellen (McNew) McKnight, was born December 6, 1932, in Doniphan. He had been a logger in the timber industry. Mr. McKnight enjoyed Timberfest and the Ripley County Fair, especially the truck and tractor pulls. He also liked bluegrass music, telling jokes and socializing with his many friends and family members. Ab never met a stranger and was always helping others without asking for anything in return. He was of the Pentecost faith.
On September 24, 1960, he was married to Joan Gillespie in Doniphan and she survives.
Also surviving are 2 daughters: Debra (and Brent) Carter of Corning, Arkansas, and Beverly McKnight of Doniphan; 1 son, Albert Clayton McKnight of Doniphan; 1 brother, John McKnight of Murray, Kentucky; 8 grandchildren; and 7 great-grandchildren.
He was preceded in death by his parents; 1 sister, Margaret Tillman; and 3 brothers, J. L. "Vern" McKnight, Jack McKnight and Jim McKnight.
Visitation will begin at noon Monday, November 13, 2017, at the Edwards Funeral Home in Doniphan. The funeral service will follow at 2:00 p.m. in the funeral home chapel and burial will be in the Pope Chapel Cemetery.