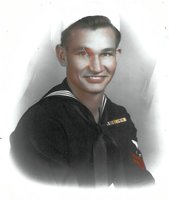 Ray Walls
Ray Walls, 95, of Doniphan, Missouri, died Sunday, November 5, 2017, at the Current River Nursing Center in Doniphan.
Mr. Walls, son of Roy and Barbara (Reynolds) Walls, was born April 14, 1922, in Brookland, Arkansas. He had been a carpenter for an oil refinery. Mr. Walls had served in the U. S. Navy during World War II as a Carpenter's Mate.
On October 14, 1942, he was married to Ruth McNabney and she preceded him in death on May 12, 1960.
He was also preceded in death by 1 son, Dennis Walls, his parents; 2 sisters; and 1 brother.
Surviving are 3 children: Steve (and Gail) Walls of Mulberry Grove, Illinois, Linda Acord of Collinsville, Illinois, and Carol Harrison of St. Louis, Missouri; 8 grandchildren, 8 great-grandchildren and 2 great-great-grandchildren.
Visitation will begin at 1:00 p.m. Wednesday, November 8, 2017, at the Edwards Funeral Home in Doniphan. The funeral service will follow at 2:00 p.m. in the funeral home chapel. Burial will be in the Valhalla Memorial Park Cemetery in Godfrey, Illinois.