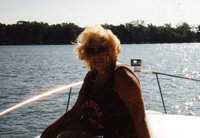 Patricia Hoff

Patricia Sue Hoff, 70, of Doniphan died Monday October 30, 2017, at Poplar Bluff Regional Medical Center in Poplar Bluff.

Ms. Hoff was born June 11, 1947 to the late Aubrey & Lois (Arnold) Patterson Sr..

She was a homemaker. She enjoyed fishing, boating, woodworking and sewing.

She married Walter Hoff on February 29, 1980 in Wauconda, IL. He preceded her in death January 2009.

Survivors include, two sons Allen Lane Beale and Donald Lee Beale both of Doniphan; one daughter Stephanie Ann Pittman of Fairdealing; one sister Joyce Brown of Muncie, IN; one brother Aubrey Patterson Jr. of Cary, IL; four grandsons, one granddaughter and four great-grandchildren.

Ms. Hoff was preceded in death by his parents.

Visitation services will be from 5-8 PM Friday November 3, private graveside are scheduled.