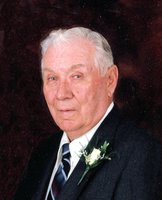 Fuzz Swindle
Henry Eli "Fuzz" Swindle,92, a veteran of World War II, and resident of Doniphan, Missouri, departed this life Sunday, October 29, 2017, at his residence. A member of the greatest generation, he was a man who proudly fought for his country, who proudly stood for the national anthem, a man who believed in working hard to support his family and a man who stressed love and loyalty above all else.
Fuzz was born at his home on the family farm in Middlebrook, Arkansas, on June 21, 1925. The second-born son of Thomas Greeley and Novella Esta (Luter) Swindle, he was named for both of his grandfathers, Jacob Henry Luter and Arcus Eli Swindle. He was a happy-go-lucky child, who learned early the value of family and hard work.
He graduated from Maynard High School in 1943 and was drafted into the service on November 2, 1943. On June 17, 1944, 11 days after D-Day and four days before his 19th birthday, he landed on Omaha Beach. He fought in the Battle of the Bulge, under the leadership of General George Patton and at Normandy France. He was designated as a gun crewman in heavy artillery and served in the U.S. Army infantry. He also served at the Siegfried Line and Bastonne. Fuzz received a Combat Infantry Badge, as well as many other honors, including a Good Conduct Medal and two Bronze Stars. He was nominated for a Silver Star, but instead requested it be sent to the parents of another soldier killed in action beside him. During his three years overseas, he served in Germany, England, Belgium, Holland, the Netherlands, and France. He was discharged on March 17, 1946.
At the end of the war and after returning from overseas, he was stationed at the Jefferson Barracks in St. Louis guarding prisoners of war. It was there on a streetcar on Broadway Street that he met the love of his life, Birdie Mae Little. They were married on December 14, 1946, at Middlebrook, Arkansas. She preceded him in death on September 11, 2002, after 55 years of marriage.
Fuzz worked for Mobil Pipeline Corporation as a pipeliner for 36 years until his retirement. He was a dedicated family man who enjoyed fox hunting, fishing, baseball and spending time with loved ones. He was a jokester and humorous storyteller keeping a captive audience with his infectious sense of humor. Fuzz was an avid Cardinals fan who either watched or listened to most of their games. And he was a great play by play commentator in his la-z-boy patterning many of his comments from the late Harry Caray.
His military service did not define him, but many of the things about him exemplified heroism: courage, responsibility, loyalty, patriotism, strength, love, and family. He didn't really like to talk about his military experience and once said, "you would never believe it if I told you". He just knew he had a job to do and focused on staying alive and keeping his faith in God to get it done and get him home safely. He was a humble man who neither boasted, bragged or expected accolades. But he fought in some of the most dangerous fighting campaigns of the war.
Surviving are two children, his daughter, Debbie Swindle Littles and son Thomas David Swindle and wife, Angie, both of Doniphan.
He is also survived by nine grandchildren-Brandi Littles Kelly and husband John, Brock Littles and wife Julie, Kacie Swindle Gunther and husband Brandt, Kellie Swindle, Amanda Howard and husband, Mark, Ryan Swindle and wife Kacey, Tyler Swindle, Chelsea Swindle, and Zack Swindle and wife Jessica; and twelve great-grandchildren, as well as several nieces and nephews and a host of many other relatives and friends.
He was preceded in death by his oldest beloved son; Dennis Eli Swindle; his parents; two brothers William Thurman "Red" Swindle and Thomas Eddie Swindle; and one sister, Jessie Roberta Swindle Wantland.
Visitation will be held Wednesday evening, November 1, 2017, from 5 – 8 p.m. at the Edwards Funeral Home in Doniphan. The funeral service will take place Thursday afternoon, November 2, 2017, at 3:00 p.m. at the First Baptist Church of Doniphan with Brother Hubert Payne officiating. Burial will follow in the Doniphan City Cemetery.
Memorials may be made to the First Baptist Church Building Fund in Doniphan.