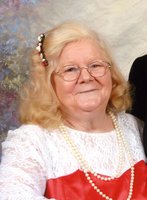 Sharon Jett
Sharon Kay Jett, 71, of Doniphan died Saturday October 28, 2017, at Poplar Bluff Regional Medical Center in Poplar Bluff.

Ms. Jett was born July 1, 1946 to the late Charles & Mary (Davis) Toothman.

She was a waitress and homemaker. She enjoyed her grandchildren and her church where she taught Sunday school for over 20 years and sung in the choir.

She married Tony Jett on March 11, 2006 in Naylor, MO. He survives.

Survivors include, four sons David Brown of Poplar Bluff, Andy Vezeau of Omaha, NB, Mike Colboth of North Carolina & Steve Colboth of Raliegh, IL; two daughters Tammy Berrong of Shelbyville, KY & Helen Snoddy of Austin, TX; one sister Opal Richmond of Doniphan, MO; many grandchildren and several Great-grandchildren.

Ms. Jett was preceded in death by his parents, son Chuck Colboth; sister Judith Wright; brother Charles Toothman Jr.

A memorial services will be Monday October 30 at 5:30 PM at the Friendship General Baptist Church in Coon Island.