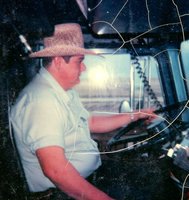 Daniel Ray Kearbey
Daniel Ray Kearbey, 62, of Doniphan, Missouri, died Monday, September 25, 2017, at Southeast Hospital in Ripley County.
Mr. Kearbey, son of the late Leroy and Nancy (Files) Kearbey, was born September 4, 1955, in Texas. He had been a dump truck driver and enjoyed hunting, fishing and camping. He was a good husband and a good friend to others.
On December 24, 1984, he was married to Carol Nance in Poplar Bluff, Missouri, and she survives.
Visitation will be held Thursday evening, September 28, 2017, from 5 – 8 p.m. at the Edwards Funeral Home in Doniphan. A private burial will take place.